a number of quick reviews by the Team.
The Movies We Missed,
And Why We Missed Them
The Crow: In 2018, there were a number of movies that warranted a closer look by us on The Corvid Review, but went unmentioned. In this post, we will attempt to offer a quick summary of those movies and what we thought of them.
Of course, we had some issues that kept us from being active for the better portion of the year. A way of putting it would be to say that the Azure-Winged Magpie and I were engaged in a Cold War of sorts (that at times skirted getting "hot") in the early months of the year.
It was around that time that it seemed as if The Corvid Review would shut its doors. Since its inception, The Corvid Review was meant to be a two-bird project. If we did end up going our separate ways, I would have wrapped up our remaining businesses and axed the project permanently — long-term goals or not.
Around mid-June, however, we achieved a form of "peace"; a peace that led to the strongest spells of "work" we've ever put in to The Corvid Review. First: during our annual "Horror Month" festivities, and second: during our current spell of reviews.
But that doesn't mean we weren't writing anything during our "Cold War". In some way — I suppose — we both had an inkling of keeping the project going, and I find myself continually surprised by the Azure-Winged Magpie's commitment to The Corvid Review. After these two years that we've partnered up, I've no problems with calling the project "ours".
Over the months, we independently collected a quite astonishing amount of text that never saw the light of day. And this post is where those words will.
Reviews that will be given the full "Review" treatment (and which have been now shifted to Q1 2019, instead of making their appearances this year — as promised earlier) are:
Deadpool 2, by the Azure-Winged Magpie (Click here for our review of Deadpool)
Ant-Man And The Wasp, by the Crow
Notable misses from this list (some of which are set for future appearances on The Corvid Review) include:
The movies hightlighted in coloured cells are those which already have reviews either in the works, or guaranteed to appear on The Corvid Review. Mid90s is the only movie which already has a review (hence the "†"), but it's being held off until the Azure-Winged Magpie has had a chance to see it again.
And at this point, I'll leave you in the hands of the Azure-Winged Magpie. I'll see you in the reviews below.
— Crow out.
---
The Year 2018




in Film and Television
The Azure-Winged Magpie: Hello-hello and chatter-chatter everybody! A-W Magpie here, back from adventures!
For the last I don't know how long, the Crow had had a "Golden Ticket" that let him go and watch films before they were even out (or not yet out in the UK). I used to like stealing his Ticket and flying off to premieres and what not.
And then we started fighting. And when we became friends again he only tells me he never renewed his ticket for 2018 (idiot). So I had to dig around and get a Golden Ticket of my own! And that's why I've been all up for reviewing films this year!
The good news is that I'm here to stay (and kill the Crow in his sleep so I can TAKE OVER). So you can put your bets on there going to be a LOT of reviews coming up in 2019 from my pretty azure wings!
And before I swoop in and start pecking at films left, pecking at films right, and pecking at films all up the middle part… I never plugged out Social Media! We've had these accounts for a while but I just never plug them and they're kinda like little graveyards that are just … out there. So why don't you go follow us since I'm going to be a LOT more active starting in a few days?
Here's everything we just didn't get around to!
---
Round-Up REVIEWS
WARNING: The following sections contain MINOR to MODERATE spoilers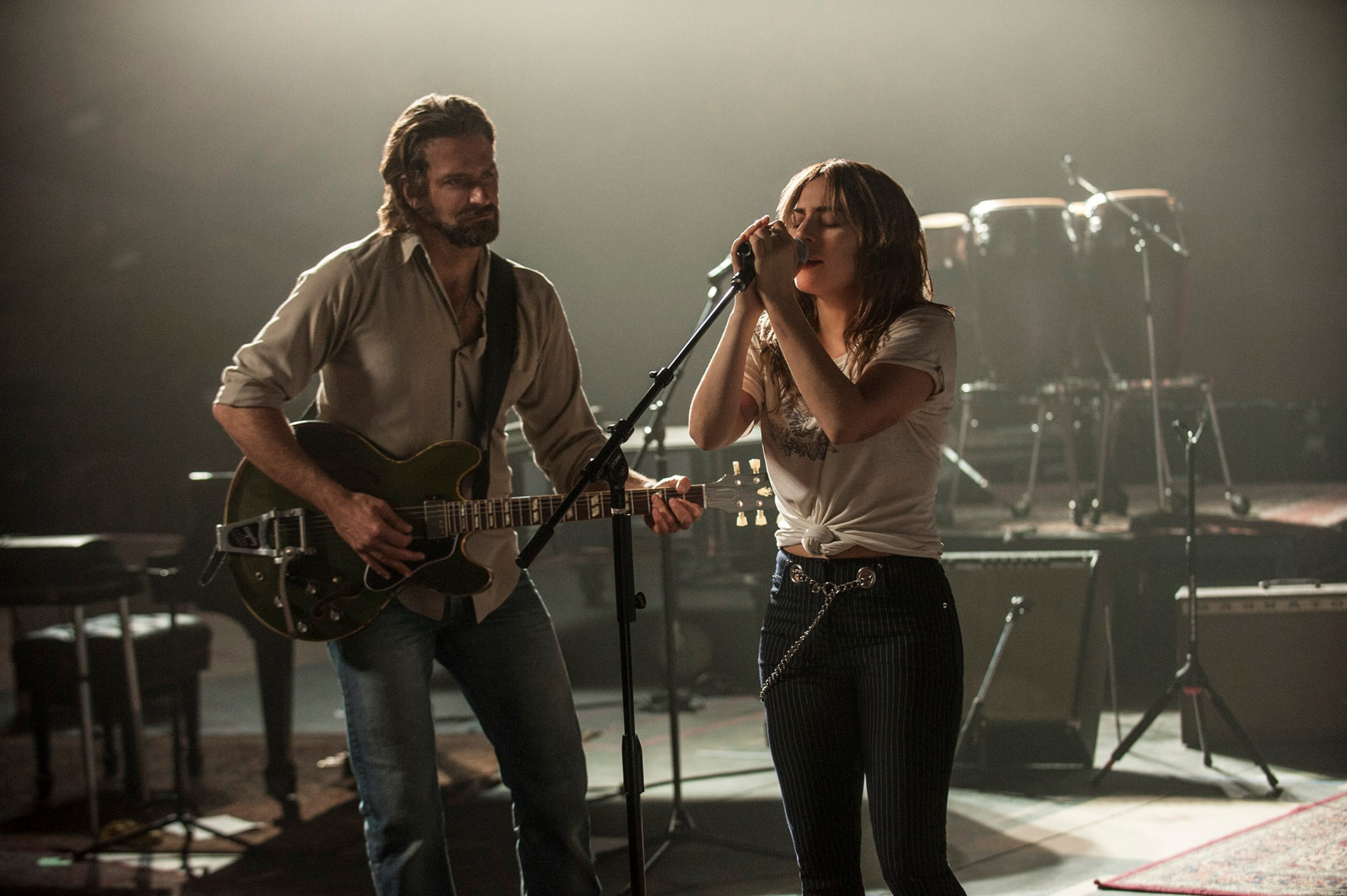 A Star Is Born
by: the Azure-Winged Magpie
A Star is Born was good, but a little boring and tells a story we've all seen before. I get that its one of the OG stories for this kind of film, and that this is remake #4, but the film didn't feel like anything special.
This rugged older musician called Maine, Jack Maine (Bradley Cooper) meets this girl Ally (Lady Gaga) and decides he's going to make her a "star" after really getting into her routine one night at a club. They hit things off and it's about Ally going up up up in all sorts of different directions and Jackie-boy going down down down into bottles of yummy drink while they do the boyfriend-girlfriend dance. Lots of drama and drinking and being emo happens and… it's pretty good for what it is.
Trash-panda's pretty good in this. I don't think he's ever been bad in anything. Gaga's GA-GA in this one. I mean… she's a singer so it's not like she'd mess this one up (she looks a bit weird for some reason though). But the actor who really did it for me was The Man Who Killed Hitler and Then The Bigfoot. He kills every scene he's in dead.
The reason I'm saying it was a little bit boring is that things just kinda pop up in this film all of a sudden and you don't really know where they're going with them. The first few times it happened, it got me asking questions. But the more these things happened I just got flat annoyed. And then I started getting bored.
Am I recommending A Star is Born? Yeah I guess I am. It's a good romance story. It has good songs and some good dramatic bits. But it's not anything special.
THE AZURE-WINGED MAGPIE: 6/10
THE CROW: NA/10
---
Bad Times at The El Royale
by: the Azure-Winged Magpie
I have a funny feeling someone wants to be Quentin Tarantino!
Now this one was pretty good! It was a little all over the place, but it had a lot of good things going for it.
So the El Royale is this hotel that's sat bang between two states in America. And all out of nowhere all these folks start showing up. You got Father Doc O'Kelly (Jeff Bridges), Darlene Sweet (Cynthia Erivo), a Hoover salesman (John Hamm) and Emily Summerspring (Dakota "50 Shades ruined my life but I Suspiria-d" Johnson). They meet up with Miles Miller (Lewis Pullman, who's got to be related to Tom Holland) who's the only guy who works at the hotel and then things start to go bat-bonkers up in the hotel's business.
There's a robbery from way back when that's still being sorted out. There's a kidnapping that's going on right from the start of the film. There's a lot of government and corporate surveillance and corruption going on. And there's this cult that's just itchin' to get their hooks sunk into the folks staying at the El Royale.
The trailer showed off so many random things that I didn't think they'd be able to put all of them into one film. Or that they would stuff all these things in and ruin the film. But they did shove all those things into the film and it actually works! (Thor's also pretty good in this one!)
It's a good film, and I'm going to go ahead and recommend it. It's a great time at the El Royale.
THE

AZURE-WINGED MAGPIE: 7/1
0
T
HE CROW: 4.5/10
---
Bohemian Rhapsody
by: the Azure-Winged Magpie
Here's the thing. I like Queen (I'm a Champion, so there) but I don't really know nothing about them. And cause I know nothing about them, I can't really tell you how good this film is when it comes to the real life story or things like that.
But I liked the film good enough. It's the story of how the band comes together during a flashback Freddie Mercury (Rami "bug eyes" Malek) has before he goes up on stage to perform for the Live Aid concert in our local back yard.
I liked the whole "follow Freddie" bit. He goes up and down and starts off good but messes himself up. He's one of those guys who just does things he likes without thinking too much about them and then doesn't know what to do when the doo doo hits the spinny plates because of him going around doing everything.
There are some people we've seen before in this one. Baelish (Aidan Gillen) is in this for a bit, playing one of the band's managers. Lucy Boynton from our Heavyweight Champion post is here playing Mary Austin. Scallywaggy Cutler Beckett's in this playing one of the band's other managers. But most of the film (apart from these folk and bug eyes) is full of people I don't really know about.
It's a good film and a lot of fun (and has lots of nice sad bits). I'm going to go and recommend it.
THE AZURE-WINGED MAGPIE: 6/1
0
T
HE CROW: NA/10
---
Cold War
by: the Crow
Cold War is a movie that I gave a chance watch earlier this year. It wasn't a production I'd heard of, and one that I walked in quite blind to. After watching it, I discovered that the movie's director, Paweł Pawlikowski, won Best Director at the 2018 Cannes Film Festival for this movie, and that the movie has gone on to win multiple awards and nominations across the board since.
And I can see all of those accolades being rightly deserved. The movie is "loosely based" on the lives of Mr Pawlikowski's own parents, and features a couple who fall in and out of love during the Communist reign in post-World War II Europe. The story spans a vast plethora of backgrounds and setting stages, all tied together by a story that is both about two individuals and their connection, and about Europe as it unfolded following the twin horrors of the World Wars.
The movie is composed in a distinctly classical, and very European way. The leads Tomasz Kot (as Wiktor Warski) and Joanna Kulig (as Zuzanna "Zula" Lichoń) are superb in their roles, with Joanna Kulig becoming something of a revelation to my eyes as the movie's short, tightly-wound runtime went on. Her character is stunningly written, and spectacularly delivered.
The pacing of the movie is — as I alluded to before — tight. The movie might feel far too short at 85 minutes, but because of the heart that burns at the core of Cold War, it ends up delivering the most bold, brutal of experiences I've personally seen in a long, long time. Cold War is a certain shout for the best movie of 2018, and comes highly recommended.
(At this point, having finally written about Cold War, I wonder if not giving the movie a full review treatment will be one of my biggest missed opportunities of the year.)
THE CROW: 8.5/10
THE AZURE-WINGED MAGPIE: 10/10
---
Crazy Rich Asians
by: the Azure-Winged Magpie
I know. I know. No one thinks I like films like these but I do. (I think its the ovaries. It's definitely the ovaries).
Crazy Rich Asians is apparently based on a book but I haven't read it. Anyway! The story's about this girl Rachel (Constance Wu) who's an Econ professor at NYU (so she's gotta be minted!) who's off to Singapore to meet her boyfriend (Henry Golding)'s parents. And guess what? Y'know how she should be minted?! It turns out her mintiness is breath mints to the boyfriend's family. They're so minted that Gordon Ramsay could drown in all the right proper sauce they've got.
And don't I know the dance she's just done set herself up for?! Crazy Rich Asians is a cute little film about the "Asian parents dance" (Asian in the sense that Americans lump anyone East of Thailand into "ASIAN") that happens all the time no matter the level of miny-freshness.
It's got a nice little story with some great scenes with Constance Wu's Rachel and Eleanor (Captain Georgiou Michelle Yeoh). It's not a perfect story, but it's got all the things that could make it one. That annoying guy from The Hangover (Ken Jeong)'s here too and and there's a lot of people I recognise in it. The story's also a little bit fantastical but it's okay since we are doing the whole "escape away to rich people land" thing. I'm not so pumped for the sequel though. It's fine as it is.
Oh and this film also has an actress called Sonoya Mizuno (as Araminta Lee), who played the "Shimmer Petrol Mannequin" and a character named Katie in Annhilation!
THE

AZURE-WINGED MAGPIE: 6.5/1
0
T
HE CROW: NA/10
---
Infiltrator from 2017 Detected:
The Death of Stalin
by: the Crow
By far one of the better movies of 2017 (a correction is added below) was Armando Iannucci's The Death of Stalin — an adaption of Fabien Nury and Theirry Robin's graphic novel of the same name.
Banned in Russia, Kazakhstan, and Turkmenistan for being an "unfriendly act by the British intellectual class", the story follows the events that unfold after — well — the death of Joseph Stalin. Relentlessly funny and darkly historical, the movie carries an undertone of paranoid fear through much of its runtime. Mother Soviet Russia is monolithic and powerful, or at lesat it's supposed to be. And then we have all these fools scrabbling for power following the death of their titan.
One a straight reading of the story as it is, The Death of Stalin would nary be thought of to be a comedy by any stretch of the imagination; and yet, it is. Each and every member of the cast turns in a solid performance and I'm nothing short of happy that the team creating the movie elected to forego the use of "Russian accents", and am I ever glad to know the reasons behind Jason Isaacs' use of a Yorkshire accent for the movie. If anything, it just adds to the movie.
Of course, it's now that the Azure-Winged Magpie decides to tell me the movie was one of 2017's; therefore: unfit for this post. I'll keep the review as it is, but I was just about to wax lyrical about how this movie was needed for 2018, which has been a rather dry year overall. My memory is getting spotty in my old age, it seems.
THE CROW: 8/10
THE AZURE-WINGED MAGPIE: 9.5/10
---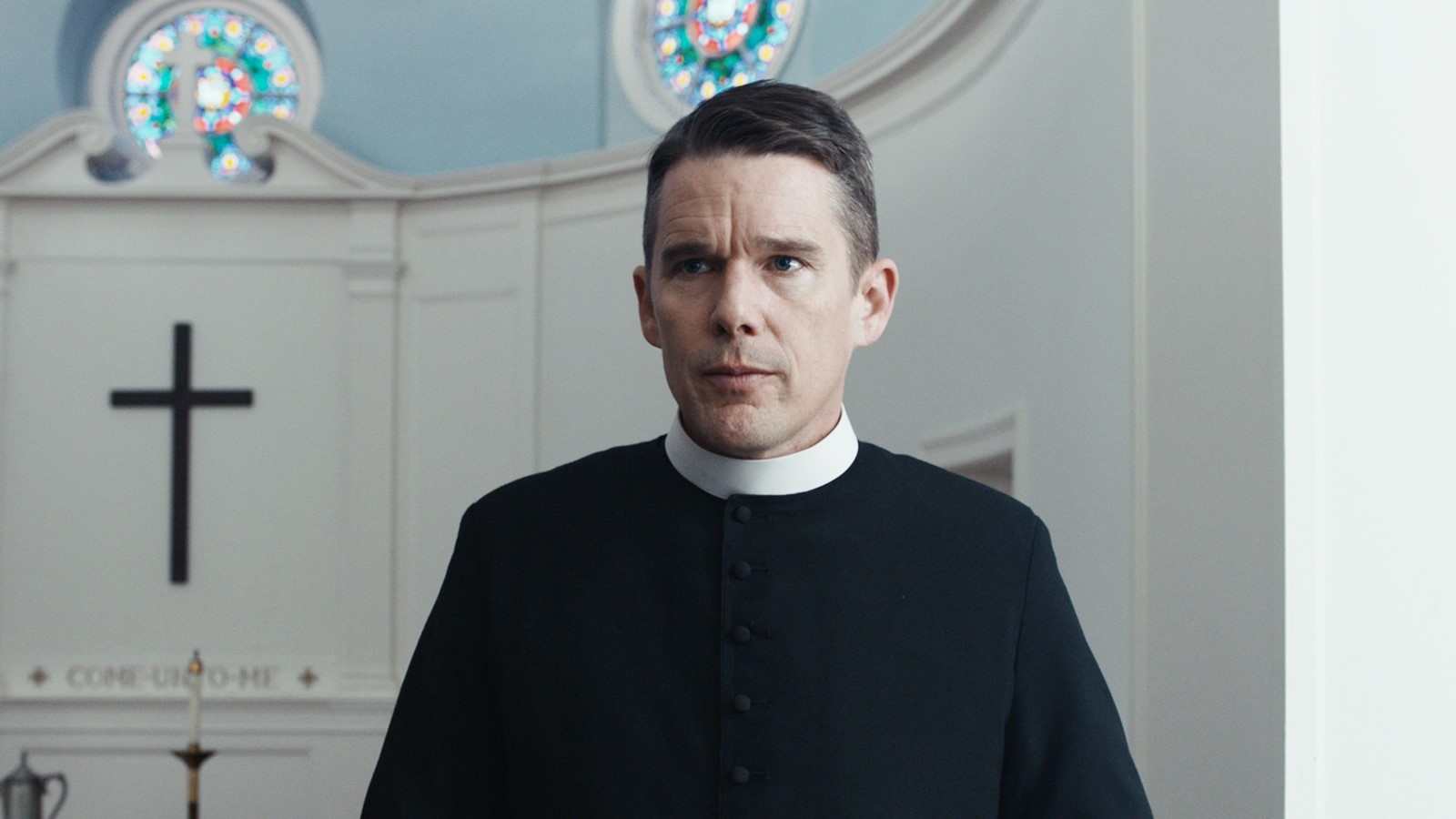 First Reformed
by: the Crow
Another day, another A24 movie on The Corvid Review.
First Reformed was a movie distinctly not on my watchlist, but ended up crossing my path nonetheless. Originally released in 2017, the movie only hit theatres in 2018 (and don't I feel like a plum in the light of my earlier gaffe regarding The Death of Stalin).
We follow Rev. Ernst Toller (Ethan Hawke) as he struggles with questions of his faith, mortality, and the direction of life in general. Enter: Climate Change.
First Reformed is a look at many things. It's a look at how information pervades the contemporary mind; it's a look at how the "new face" of media is an invasive, viral organism all of its own; and it's a look at how people who have lost meaning are nothing but quick to make others' battles their own because of it.
Ethan Hawke's performance is rather good, and Amanda Seyfried's Mary plays off him well enough. The movie is a well put together production, and never aspires to be something greater than it is. It's a decent movie that's well worth a watch on a quiet weekend, I'd argue.
THE CROW: 6/10
THE AZURE-WINGED MAGPIE: 7/10
---
Jurassic World: Fallen Kingdom
by: the Azure-Winged Magpie
They need to stop making Jurassic films. Period.
Jurassic World was pretty bad (apart from mummy T-Rex making sure the Park her house). But this one is straight stupid. It looks alright and there's some big huge things that go down. But it's just not a good film you lot. It's just… not.
The guy who made this film made some of our favourite films ever (The Orphanage and A Monster Calls) and then he went and turned out some hot rubbish in this one.
The islands get blowed up. The dinosaurs get dino-napped (I'm not joking). The big fella from the first film gets melted to death in lava (which no one would know unless they went and looked up the director saying so). And we got another hybridino who definitely watched shitty horror films while in his cloning egg-machine because the dude now starts hanging around in the back being all spooky for no reason.
The whole "auction" bit needs to get chucked into lava and someone really shoulda given the dinos brains. The ending decision is just plain terrible. Aaand I see they're setting up for a "Dinoverse" or something stupid like that (I bet they're going to ask us to go see Stego-dorus: A Jurassic World Story! out in the theatres soon!) It's a popcorn flick that doesn't have brains and was made for people who don't have brains.
And I liked the first Jurassic Park. They shoulda just kept it to the one.
THE

AZURE-WINGED MAGPIE: 2.5/1
0
T
HE CROW: NA/10
---
The Favourite
by: the Crow
Director Yorgos Lanthimos has been on my watchlist ever since 2016's The Lobster (also featuring Rachel Weisz), and with The Favourite, he delivers a late — but much-needed final entry to the better movies of 2018.
Set in 1700s Britain, against the backdrop of the War of the Spanish Succession, we follow Queen Anne (Olivia Colman) and the battle between Sarah Churchill and Abigail Hill (Rachel Weisz and Emma Stone, respectively) to become the Queen's "Favourite" above all her others.
Now, I am no historian — especially in relation to the time and location of the events in The Favourite — and can't say for a fact how accurate the stories told by the movie are, but I know they have some basis in reality. However, this is a movie, and I find myself quite taken with the fiction of the world the story exists in.
The movie boasts strong performances from all three of its leads, and features Lanthimos' (by this point) signature use of camerawork and editing to deliver a strong — yet quirky — final product. It's a movie I'd ideally want to watch again before committing to a score, but I don't think my final thoughts on the movie will be subject to much change, either.
The sharp-edged, almost-serrated tug-of-war over the bizarre and quirky Queen Anne makes for great viewing, and The Favourite comes highly recommended by both of us on The Corvid Review. It's by far one of the best productions of the year.
THE CROW: 7.5/10
THE AZURE-WINGED MAGPIE: 8.5/10
---
Mary Poppins Returns
by: the Azure-Winged Magpie
Oh hey! They made another Mary Poppins!
…oookay!
I mean… it's not bad. But when you tell me Mary Poppins is coming back, this isn't what I'm thinking of. This film is kinda a re-do of the first one and it's got some pretty stupid things to say to the kiddies who're going to go and watch it. But it's a Mary Poppins film so what else were we supposed to get?
Emily Blunt's pretty cool as the Gandalf of nannies and that was a big suprise. I didn't think anyone could've taken the role over from Julie Andrews but she did a pretty bang on job. It looks pretty, it's a bit simple. It has some fun songs and some tripsy animation bits. I guess what the film's really good at is taking adults who're watching it and sending them right back to when they were six years old (or something around that age).
It's a good little sequel, but it didn't really make me feel like it's worthy of the original just cause it doesn't have that kind of out-of-the-world the first one had. And that's because a lot of films have done what the first one did over and over again. MPR needed something bigger to be important and it never went there.
Oh and Mary Poppins totally has nothing to do with another character (can't find the actual picture that put it in my head)…
THE

AZURE-WINGED MAGPIE: 5.5/10
THE CROW: NA/10
---
Mission: Impossible — Fallout
by: the Crow
I have only really watched Mission: Impossible III in the past, and I disliked it greatly. I subsequently skipped Ghost Protocol and Rogue Nation, and all I knew prior to Fallout's release was that it was the movie that led to the most expensive upper lip in all of cinematic history.
Following the movie's release, however, all I heard about was how it was one of the greatest action movies ever made. And that particular claim is something that makes me raise an eyebrow. I have a list — one I've perfected over the years — of movies that qualify as the best movies in the genre, and I take contenders to that throne quite seriously.
But it wasn't until earlier today that I actually watched M:I — Fallout. And what did I think? Do I view it as a serious contender? Or is it another disappointment (and there have been many of these) that's just caught the audience's fascination for the moment?
The answer is: It's a serious contender. So serious, in fact, that it's earned a place on that list of mine. Of course, I'll have to wait and see if I still feel that way in a few months, but I doubt my opinion will change.
The movie presents a quite interesting story and some great performances. But the meat of the movie really is in the action. And it's excellently composed. Tom Cruise is an actor I respect, but don't like for multiple reasons. Here, though, he shines. Director Chris McQuarrie seems to have a good working relationship with him, and that's perhaps why this movie hasn't been turned to rubbish by Mr Cruise's influence (for reference, see 2017's The Mummy).
In summary: M:I — Fallout is good production, and it's one I'm glad to have seen before the end of the year.
THE CROW: 7.5/10
THE AZURE-WINGED MAGPIE: 9/10
---
Mortal Engines
by: the Azure-Winged Magpie
It's garbo. Skip it.
THE

AZURE-WINGED MAGPIE: 1/10
THE CROW: NA/10
---
Mowgli: Legend of the Jungle
by: the Crow
I only lasted 14 days into my hiatus from Netflix, before my pressing need to watch Roma (and the surprise arrival of a most fruminous Bandersnatch) roped me back in. But before I cancelled my subscription to the service, I decided to watch one last movie. And that movie was Mowgi: Legend of the Jungle. (Please keep in mind that I haven't seen Jon Favreau's take on The Jungle Book.)
Mowgli is Andy Serkis' directorial debut, and features an ensemble cast of his friends. To address the elephant (quite literally) in the room, first: I didn't mind the motion capture/CGI on the "animals" in the movie. The characters are well fleshed-out, and the human characters slot in to the world with ease. The movie looks alright (even good, at times), and the music is top-tier. However, the movie leaves me with a feeling of being underwhelmed, for some reason.
There are some very interesting things going on, and I like how the plot has been delivered — it's one of the best features of the production. However, it does miss a good number of the marks that one would expect from an adaptation of Rudyard Kipling's original work.
It's worth a watch, and comes recommended only because of Andy Serkis. I don't feel let down by Mowgli: Legend of the Jungle, but I don't find myself particluarly satisfied by it, either.
THE CROW: 5.5/10
THE AZURE-WINGED MAGPIE: 4/10
---
A Quiet Place
by: the Crow
A Quiet Place is a movie I'd been hearing about for months leading up to its release, and when I did finally catch it in theatres, I found myself watching a very different product from what I'd expected.
The movie presents a narrative backed by tension, and carries that tension all the way through to the end. It's a rather straightforward work of fiction, and could easily be a bestselling summer novel that people enjoy, and thereafter put away after the moment has passed. As a movie, however, it stands out as a good piece of work.
The movie excels in the performance department, with director/star John Krasinski (as Lee Abbott) playing out a rather subdued character next to his in-world (and real world) wife Evelyn Abbott (Emily Blunt), who has — by far — the stronger performance, both by necessity, and by sheer skill. The movie also draws decent performances from its younger actors, and I have not one complaint in this regard. Some dumb choices are made, and one ridiculous moment stands out like a sore nail. But I can ignore some of them. To address one little nitpick I have with the movie: the creatures in the movie look great, until they start to move. Just something about they way they've been animated puts me off.
The story of the movie takes place some time after alien creatures have effectively crippled human civilisation, and have scattered the remnants into little pockets of wanderers. Starting the story following the "invasion" (as I'm electing to call it) is a good choice, since it allows us to be comfortable with this one family in isolation.
All that said, A Quiet Place comes highly recommended by both of us at The Corvid Review, despite my score suggesting otherwise. It's a solid experience that I believe will be just as good on a small screen. I would just like to point out that this is definitely the kind of movie that should be watched in the dark, with your windows shut and your volume turned up. All you need is a dark, and quiet place.
THE CROW: 5.5/10
THE AZURE-WINGED MAGPIE: 7/10
---
Ready Player One
by: the Azure-Winged Magpie
On second thought, I'm gonna review this one later in a proper post. I have a LOT to complain about.
This guy was cool though.
THE

AZURE-WINGED MAGPIE: TBA/10
THE CROW: TBA/10
A few stinkers are coming up!
---
Revenge
by: the Azure-Winged Magpie
I don't chase up films like this do I? Revenge is one of those exploitation films from back in the day done with new cameras and such. It's a "girl goes out with boyfriend, his weird friends turn up, things to south, bad things happen to her, she comes back and kills the bad guys" story.
It's pretty well made but… YEEESH. Don't we have enough of these films already? Aren't we done? No more. I don't want no more. Skip the intro bit and just get to the killing and we can all be friends. Okay?
Okay. Thanks.
THE

AZURE-WINGED MAGPIE: 2/10
THE CROW: NA/10
---
Shoplifters
by: the Azure-Winged Magpie
Shoplifters is one of the best damn films I watched this year. There.
The Crow had Roma. And it's good. One of the best of the year even. But I've got Shoplifters to fight his fancy-pantsy artsy-smartsy good film-watching butt with!
The film's about… Shoplifters. Kinda. It's about poor people who've gotten themselves done over by Big Proper Society because of thises and thatses. They've built up their own little rack-a-shack family in their own little cutaway part of Tokyo.
They're happy enough and end up letting this little girl Juri (Sasaki Miyu) stay with them because her folks have been neglectful of her (and other things that I'm not going to talk about on here). So she joins up with the crew and starts doing the BIG EVIL shoplifting with them.
And we're all happy and lucky until Big Proper Society comes a-calling. And that's what the film's really about. It's about how Big Proper Society leaves people behind and how even if folks turn to tiny criminal behaviours and things like that, they can still be better people than the people who live in Big Proper Society even though the Big Proper Society Committee's gonna tell you they're scum.
I'm a tough as nails Magpie, and this film had me bawling. It had the Crow bawling. It had everyone I know balling. Even my mum was bawling cause Hatsue (Kiki Kirin, who died just after the film was released) reminded her of someone she knew. It's just a really good watch. It's the highest recommendation I can give this year. Go watch it. Go watch it ASAP.
THE

AZURE-WINGED MAGPIE: 10/10
THE CROW: 8.5/10
---
Upgrade
by: the Crow
Upgrade is written and directed by Leigh Whannell (of Saw fame). It features Logan Marshall-Green (or discount Tom Hardy, as I once called him whilst talking about Prometheus) as a man — Grey Trace — who goes through a personal tragedy and allows himself to be fitted with an experimental piece of technology known as STEM so that he can start to pick the pieces of his life up again.
There's little I have to say about Upgrade apart from the fact that it's a straightforward, simple movie that takes what it has to work with and milks whatever measure of excellence it can out of those things. It's not necessarily something we haven't seen before, but for what it is, Upgrade is a fine watch.
Logan Marshall-Green has now graduated from being "discount Tom Hardy" to an actor in his own right, in my eyes, and I'm interested to see the other productions he's worked in. His performance is almost captivating, and it's hilarious to watch the movie, knowing that Tom Hardy himself did something similar in the awful Venom movie.
Upgrade is well-written, decently-paced, and looks rather good. It isn't a movie I'd recommend seeking out in particular, but a movie I'd happily recommend for fans of science fiction thrillers in the vein of Blade Runner or Ghost in the Shell. There are no philosophical ruminations, nor are there any illusions of grandeur, here. It's a fun, tense action movie with a smattering of science fiction themes in it.
Upgrade's a fun watch, and I'm interested to see where both Mr Whannell, and Mr Marshall-Green's careers take them next.
THE CROW: 6/10
THE AZURE-WINGED MAGPIE: 7.5/10
---
Unsane
by: the Azure-Winged Magpie
How many films has Claire Foy been in this year?!
Better question! How many films have been shot with an iPhone 7 Plus™ this year?!
So there's this girl Sawyer (Claire Foy). And she get's locked up in a loony bin that she doesn't want to be locked up in. There's a good story and Claire Foy's proper amazing in this one. But I need to know
WHY
this film had to be shot with the iPhone. It does NOTHING for the film. It just makes the film look bad. If this was done with a proper camera, it'd be a really nice little film. And it is a nice little film. I like the story and it's not too much. It's just straight and simple and doesn't even make you ask the question that's up there on the film's tagline (it's "iS ShE Or isN't ShE?!").
The character David (Joshua leonard) is a real nice one and I… "liked" Nate (Jay Pharoah). There's a few things that happened in the film that annoyed me right away, and some things that became annoying, but that's what the film's supposed to be about I guess. I don't think I'm gonna recommend it cause it's not anything special. But it's not a bad film. It's just another one of this director's weird "projects" that he likes pushing out. I mean… the only thing anyone's going to be talking about is going to be the iPhone thing. And we all know how [BLEEP]ing annoying Apple fans can be…
THE

AZURE-WINGED MAGPIE: 5/10
THE CROW: 4/10
---
Widows
by: the Crow
Widows is the latest offering from director Steve McQueen (and his first not featuring Michael Fassbander) — who has been one of my favourite directors for some time.
The movie has a rather unique premise. The widows of some recently-deceased criminals are strongarmed into paying off the criminals' "debts", and these widows thereafter decide to go on a caper themselves to acquire the money that is owed. The usual elements of a heist movie are here, and we spend a lot of time in the building up and planning of the caper I mentioned. And it's in the inter-personal moments between the titular widows that the movie finds its voice.
Daniel Kaluuya plays an out-and-out villain for what I believe is the first time, here, and he's rather good in the role. Elizabeth Debicki and Michelle Rodriguez play roles that feel against type for them, and do a decent job of them (with Cynthia Erivo along for the ride), and Colin Farrell appears from wherever he's been hiding for the past few years. But — as always — Viola Davis shatters the screen every single moment she is in it. She truly is an actress who can do no wrong.
Anyone who's read the list of cast members involved in Widows will know that the movie features a twist involving a certain character, and while the twist adds a decent degree of narrative tension to the movie, I felt that the movie would have been better if the story had been taken in another direction.
The team — under Steve McQueen's direction — have crafted a very grounded, very realistic world for our Widows to plot and scheme in, and while it's far from his best work, or a great work of cinema in general, it's a very enjoyable heist movie, and comes highly recommended for anyone who's even a little bit interested in movies which feature capers.
THE CROW: 7/10
THE AZURE-WINGED MAGPIE: 7.5/10
---
You Were Never Really Here
by: the Azure-Winged Magpie
No. Not that one. We don't talk about that one.
So there's this guy Joe (Joaquin Phoenix). And he kicks names and takes ass out of the human traffickers! He's a troubled ex-army dude who's got hella personal issues and he's hot on the case of this missing girl Nina (Ekaterina Samsonov).
I don't really have much to say about the film. It's got this tiny-scope story and has a lot going on in that tiny scope. Joaquin Phoenix (that name is hard to write) actually plays this troubled badass really well. And because the film really works or doesn't based on how good he is in it… the film actually turns out to be really good.
The guy looks like an absolute savage in this one. He's got that crazy drunk punchy-punchy Mel Gibson look going on. He's got the Jack Nicholson eyes. He can't even do something as meh as take a picture for someone without going all doom and gloom(!) in his brain box. And holy shimmerballs… he's brutal A. F.
The action scenes were a bit… off and there were a few bits in the film which were a little slow. The bits with Joe being all traumatised and thinking about lopping his own top off were good, but there were were some other slow bits that I think the film could have just chucked out and been better off with.
But it's really about Joe. And Joe's cool. And I gotta leave you with this one thing I don't really have the space to get into: Why's the film called You Were Never Really There?
THE

AZURE-WINGED MAGPIE: 8.5/1
0
T
HE CROW: 7/10
---
2018's Random Rubbish Films
a list by the Azure-Winged Magpie
Robin Hood
THE

AZURE-WINGED MAGPIE: 0.5/10
THE CROW: NA/10
Ocean's 8
THE

AZURE-WINGED MAGPIE: 1/10
THE CROW: NA/10
---
The Crow: At long last, we can claim that we've done a decent job of 2018's movie releases here on The Corvid Review. Of course, some titles have gone under the radar, and some are yet to be looked at with a more critical eye (or an eye of any kind), but we shall return in 2019 with a much stronger variety of content, and will be taking this project into newer, and more exciting, places.
Updates will follow, as will an announcement for an inaugural "event" we've been working on. This "event" is intended to replace our previous "Scorecards" system, and more details on it will follow later this week.
In the meantime, we hope you've had happy holidays, and we wish you all the best for the new year.
Until next time,
— Team over and out.