a few thoughts by the Crow.
WARNING: This post contains SPOILERS
The Grand Prix as it Stood on the Night
On Saturday, the 13th of October, 2018 (UK hours), Bellator hosted the first half of it's Heavyweight Grand Prix semi-finals. He contest? Matt Mitrione vs Ryan Bader.
Following a fifteen-minute rout, Bader came away as the first name in the finals slot — almost embarrassing Mitrione (who had one of the worst nights of his professional career) — with ease. Barely a scratch on him since the very beginning of the tournament, Bader looked a formidable force to overcome for whoever his opponent would be.
And the two men on the other end of the bracket, set to fight the following night?
One is Chael P. Sonnen: a veteran fighter with a mouth that delivers nothing but gold. An animated character actor when not in the cage, with a record of 31W-15L-1D heading into the fight, with a storied history of fighting some of the most notable names in the business.
And the other is Fedor Emelianenko: the legend himself, walking in with a record of 37W-5L-1NC. As a disclaimer, I must point out that I have been a huge Fedor fan since 2005, when I started tracking MMA. Even during his stretch of defeats in Strikeforce, his weak comeback following his three defeats, the disaster of a fight vs Maldonando, and his crumbling against Mitrione earlier in the year — there has been no one better in my eyes thus far (although Nurmagomedov is quickly becoming a successor). I wanted to be at peace with the idea that he had hung up his gloves following his victory of Rizzo, and the two defeats he has faced since then have stung deep. I'm of the opinion that his time is over, but then: comes the win over Mir, and I'm back in the front row. The key? Never doubt The Last Emperor.
The fight was preceeded by a series of very entertaining promos cut by The American Gangster, who would proceed to walk out to a spoken word piece of his own for the fight, and every ounce of it is comedy gold.
With the stage set, and the keys called as: Sonnen to take the fight to the ground; Fedor to set up the overhand right — the fight was on.
---
EVENT RECAP
Preliminary Bouts and Lead-Up to the Main Event
Preliminary Card results
The results follow:
Nick Fiore def. Jerome Mickle | Round 3, 5:00 via Decision (Unanimous; 30-27)
Tommy Espinosa def. Sukhrob Aydarbekov | Round 1, 1:27, via Submission (armbar)
David Meshkhoradze def.

Shaquan Moore

Round 3, 5:00, via Decision (Split; 30-27, 28-29, 30-27)
Jennifer Chieng def. Jessica Ruiz | Round 1, 1:22, via TKO (punches)
Zarrukh Adashev def. Christian Medina | Round 1, 1:08, via TKO (strikes)
Andrews Rodriguez def. Mike Diorio | Round 3, 5:00, via Decision (Unanimous; 30-27, 30-27, 30-27)
Dennis Buzukja def. Ryan Castro | Round 1, 2:53, via KO (punches)
Jeremy Puglia def. Eric Olsen | Round 1, 3:16, via TKO (punches)
---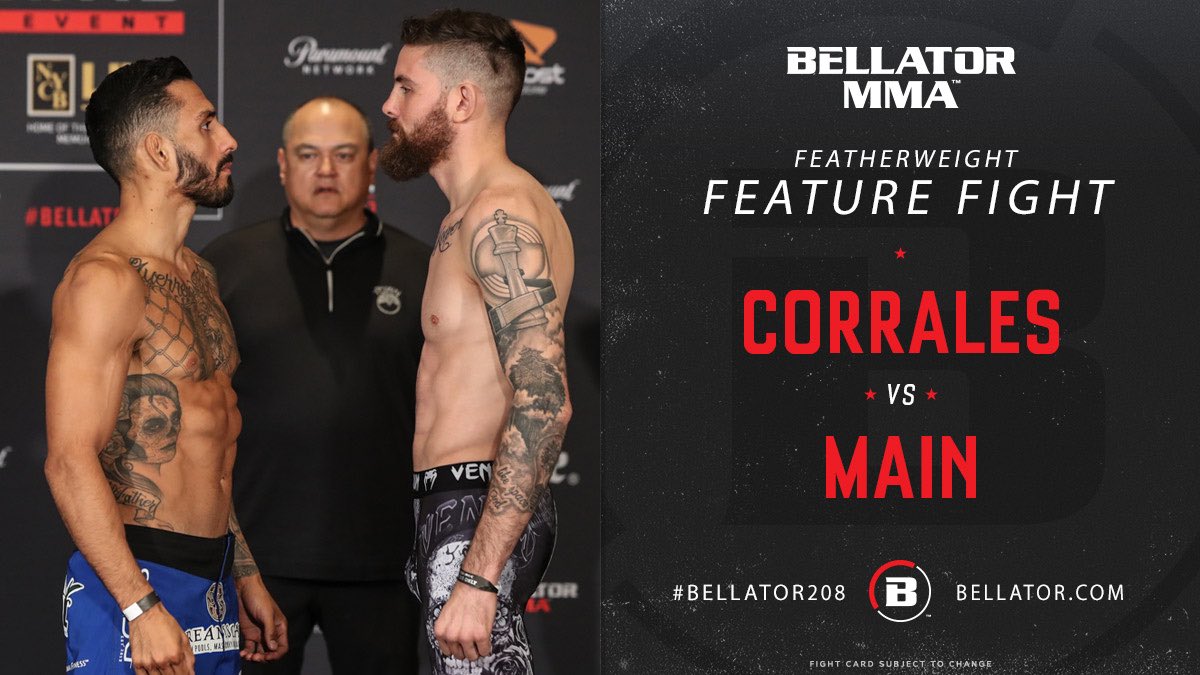 Main Card
The results follow:
Henry Corrales def. Andy Main | Round 3, 2:08 via KO (punches)
Anatoly Tokov def. Alexander Shlemenko | Round 3, 5:00, via Decision (Unanimous; 30-27)
CheIk Kongo def. Timothy Johnson Round 1, 1:08, via KO (punches)
Benson Henderson def. Saad Awad | Round 3, 5:00, via Decision (Unanimous; 30-27, 30-26, 30-26)
---
Main Event
And now, we arrive at the Main Event.
Fedor "The Last Emperor" Emelianenko vs Chael "The American Gangster" Sonnen
The fight:
A round-by-round summary.
Round One:
The fight starts heavy, with The Last Emperor delivering massive blows to the body of his opponent. Every smack can be heard, and Sonnen is visibly shaken. But Sonnen rallies to recover, firing back a few of his own and seeking the takedown, which he scores on multiple occassions, but not very successfully. Fedor is quick to his feet every time, and seems unwilling to go to ground with his opponent.
At this point, all I wish to see is Fedor employ his once-world-class grappling again, but it's not to be. The fight goes back to the feet, and we repeat the motions until Sonnen scores the most significant takedown of the fight so far, dragging the fight to where he wants it — the ground. And Fedor — showing us just the slightest glimpse of his prowess on the ground — gains top position and starts raining all nine circles of hell down on The American Gangster. However: a twist appears in the tale. Sonnen takes back control and attempts a… something. It appears as if he's attempting to sink a RNC, but decides to swing his hips up and over Fedor (in an effort geared to apply cranking-pressure on Fedor's neck), and utterly fails to make anything of the situation.
Fedor reverses position and gains top control, from where he begins to shatter Sonnen's defence with a sequence of solid left hands. Sonnen has curled up and is doing nothing but trying to protect his face. Referee Dan Mirgliota tells Sonnen he needs to see movement, but Fedor keeps raining unanswered strikes.
And it's over, seconds shy of the end of the first round.
Result
Fedor Emelianenko def. Chael Sonnen | Round 1, 4:46, via TKO (punches)
---
Onward to the Finals: Fedor vs Bader
Well, this is a fight I'd never have expected to ever see even a few years ago. Stylistically, it's similar to the fight that took place last night, and I dearly hope Fedor regains his ground game in time for the bout — or at least displays some of it.
Even if both men are considered well past their prime, it's still an interesting fight, and I'll be sure to watch it live.
---
Closing Thoughts
Not the best event, to be honest, but the co-main (Henderson vs Awad) and the main event made me happy. Any day that The Last Emperor triumphs is a good day by me. Sonnen did try, and of course, he is an example of a character played right. After the fight, there is no animosity in the air, and everything is set for January the 26th (which might very well be the final hurrah for either of the fighters involved in the main event).
Bellator 208 was the first Bellator event I ever watched in full, and I'm honestly not all that impressed by how they put the event together. Some of the fights were entertaining, but the whole night felt very subpar to me, even when comparing it to the likes of organisations such as Rizin (home of the Holy Cup Noodles) and EFN.
But hey, they're trying, and hopefully they do well. Good Main Event on the night, and I hope to see more.
— Crow out.
---
Final Event Ratings
THE CROW: 5.5/10
THE AZURE-WINGED MAGPIE: NA/10
---
Here's the official poster: